When it comes to insect infestations, finding them early saves you time and money!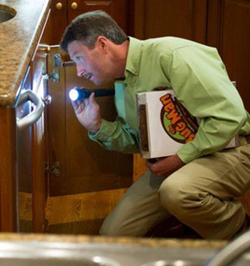 As we begin to transition from summer to fall, one of the first things that we notice is a sharp decrease in insect activity outside. Some species migrate south in pursuit of warmer temperatures, but most of them don't travel nearly as far, choosing instead to invade your home.
The good news is that when it comes to pest control services, our team at The Bug Man is the Arkansas pest control leader, and we're a phone call away if you have an insect or wildlife problem. But the best defense against an infestation is a good offense, and we have a few general recommendations which can lessen your chances of an infestation:
Schedule your annual termite inspection-Annually, termites cause more property damage than storms, fires, and floods combined, and a termite and pest inspection is generally a requirement of most homeowner's policies.
Shore up access points-Termites generally enter the home through structural areas where there is direct wood-to-earth contact, so make sure that those areas are painted or sealed. Be sure also to seal up crawl space doors and vents, and look for water damage under eaves, and on soffit and fascia. If damage is found, repair it immediately!
Maintain household cleanliness-Don't let dishes pile up in the sink, and be sure to clean your kitchen thoroughly after preparing every meal. Be sure to clean under and behind appliances, and take out the trash every night, even if it happens not to be full.
Eliminate habitats-Clutter in attics and storage rooms provide a lot of convenient places for insects and rodents to hide, and they particularly like cardboard and newspapers. It's a great idea to periodically make a household purge, and for the things that you absolutely must keep, store them in plastic storage tubs with lids that snap on securely.
Our team at The Bug Man has been helping Arkansas homeowners stay pest-free for over 40 years and counting, and we're ready when you are. Be sure to check out our website for money-saving coupons, including $25 off your first termite inspection!
If you have any questions, or are ready to schedule a service appointment, contact us online, or at 501-663-9464.