Want to control pests and lower your energy costs? The Bug Man offers brush door seals!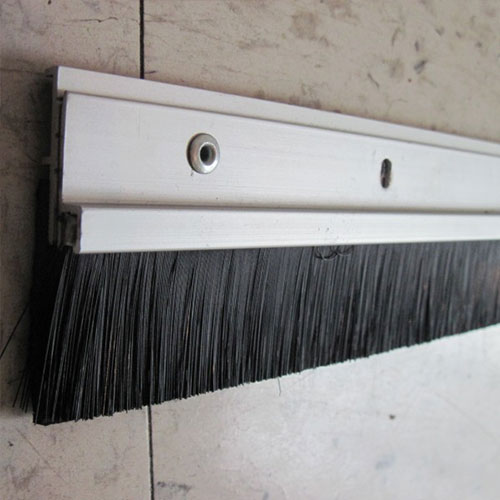 Summer is here, and like most Arkansans, you're ready to enjoy some fun in the sun! The only problem is that when it gets hot outside, insect activity can quickly get out of control. The good news is that our team at The Bug Man is always a phone call or mouse click away when you're ready to rid your backyard of mosquitoes and other insects.
When it comes to pests getting into your home, we recommend several precautions, including making sure that you seal crawl space vents, and periodically inspect your eaves and rooftops for water damage. Insects can crawl through the smallest openings, and for that matter, so can rodents and other unwanted wildlife. We also offer Sealeze Pest Control Brush products, which can seal gaps up to 4 inches under doors. They can fit dock levelers, rolling/overhead doors, and even aircraft hangar doors. Brush door seals are inexpensive, easy to install, and offer many great additional benefits:
Flexible, secure seals-Pests are attracted to light, odors, and sounds, and one of the immediate benefits of the door sweeps is that their densely woven nylon bristles will form a tight seal around exterior and overhead doors. Even if the surface is uneven, your brush door seals will form a tighter seal than most other products on the market. And they couldn't be easier to install!
Lower Energy Costs-Energy costs continue to rise each year, and this trend is unlikely to change. That's why it's vital to seal up drafts around exterior doors. The savings will add up over time, and a small investment in brush door seals will pay for itself in energy savings.
Non-toxic and Chemical-Free-No one likes the idea of subjecting themselves and their employees to unnecessary chemicals. Additionally many industries have incentives or mandates to reduce the use of chemical cleaning and pest control treatments. Your door sweep brushes offer the same benefits as many commercial pest control treatments, and are completely chemical free!
For more information about door sweeps or quality pest management services, contact us online, or give us a call at (501) 663-9464.