The Bug Man is here to help you with all of your termite control needs!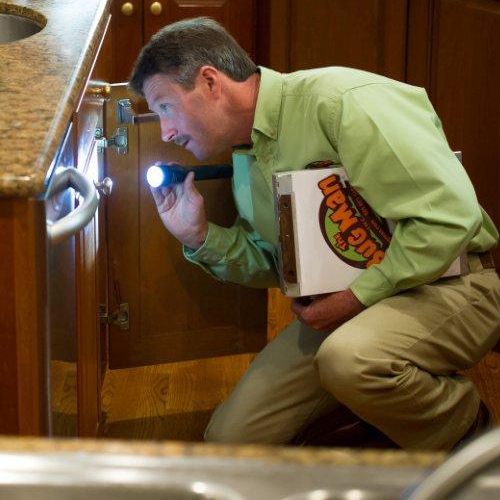 Each year termites cause more structural damage to homes each year than fires, floods, and tornadoes combined. Even worse, many homeowners don't realize that they have a termite problem until they're deep into an infestation. Once termites begin their "all you can eat buffet," they can cause thousands of dollars' worth of damage in a matter of weeks.
Fortunately, The Bug Man is always a phone call away! When you invest in a termite contract, one of our experienced and customer-focused pest control experts will inspect your home inside and out, and will be there to take care of any problems that they detect. Termite damage is difficult for the untrained eye to spot, but we definitely encourage you to be on the lookout for any evidence and call us right away. Here are a few things to look for:
Mud Tubes-The most visible evidence of a termite problem are "mud tubes" on the side of your home, which are a combination of frass (droppings) and saliva. The tubes provide termites the moisture that they need to survive, and a transportation system to access your home.
Standing Water-If you have any drainage problems at your home, you could be rolling out the red carpet for termites and mosquitoes. Be sure to empty pet food dishes and kiddie pools after use, and if you have any outdoor water features, be sure that the air is circulating.
Unpainted or damaged structural wood-Unpainted structural wood in your crawl space that comes in direct contact with the earth is particularly vulnerable, because it provides access. If any structural wood sounds hollow when tapped, it could be evidence of an infestation.
Excess vegetation-Keep your lawn mowed and your hedges trimmed to eliminate their habitats. Be sure to also cut any tree branches that make direct contact with your roof.
If you have any questions about termite control, or would like to schedule a termite inspection, contact us online , or give us a call at 501-663-9464.