Termites? Not on our watch!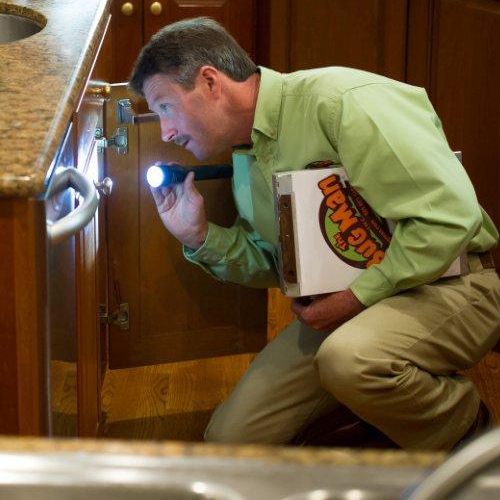 Central Arkansas was recently ravaged by an EF3 tornado, and it will take us months to rebuild and restore the affected homes and businesses. But people in our community immediately pitched in to start helping displaced families rebuild and move back in as quickly as possible. We're also accustomed to seasonal ice storms, flash floods, and other severe weather events throughout the year, and we understand the importance of being prepared for any emergency. But did you know that termites cost homeowners more money each year than fires, floods, and tornadoes combined?
The Bug Man has been Arkansas' most trusted pest control company for over four decades, and we're proud to serve homeowners throughout central Arkansas. We're also a phone call away if you need to schedule pest control in Conway, Searcy, Pine Bluff, or Hot Springs! We strongly recommend an annual termite inspection from one of our experienced pest control experts so you'll enjoy true peace of mind all year. We're also offering free termite retreats for our current termite customers who are rebuilding and in need of a termite pretreat. If you and your family were impacted, give us a call right away!
Your termite contract is effective year-round and begins with an in-home inspection. Our trained technicians will inspect your home from top to bottom for evidence of termite activity, and the process typically takes less than an hour. We'll also make specific recommendations for things you can do on your own to keep your home pest free.
Termite activity is very difficult for homeowners to spot on their own, and your best defense is a good offense. Termites like to feast on unpainted wood, so ensure that all exterior surfaces are painted, particularly if they come into contact with the ground. Periodically inspect your roofline, eaves, soffits, and fascia boards for water damage and wood rot, and replace damaged wood immediately. You might be able to spot warped wood in your crawl space that sounds hollow when tapped, but you're not likely to see sawdust, no matter how advanced of an infestation you might have.
Be sure to mow your lawn and prune any hedges or tree branches that come into direct contact with your home. Termites build "mud tubes" out of saliva and frass (droppings) as a source of transportation and nutrients, and you should contact us immediately if you see them forming on your home exteriors.
If you have any questions about termite treatment or would like to schedule your annual termite inspection, contact us online, or give us a call at 501-663-9464.