Is your family on the menu when you have a backyard cookout? We can help with mosquito treatment!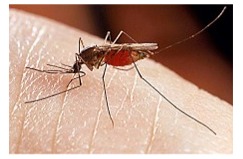 Now that spring is here, it's time to open up the back door, and enjoy your yard! Whether you want to show off your skills on the grill, toss around the frisbee with your kids, or curl up on the chaise lounge with a good book, this is the best time to do it, before the punishingly hot summer begins. But if you ever have an infestation of mosquitoes, indoors with the air conditioning and the flatscreen TV may seem like a better plan.
Don't let the mosquitoes win! Our team at The Bug Man is a phone call away, and we offer a variety of affordable service plans to help deal with mosquitoes and other outdoor pests. When it comes to mosquitoes, treatment is most effective when approached proactively. Here are a few basic recommendations on how to deal with mosquitoes:
Eliminate their habitats-Mosquitoes lay their eggs in stagnant water, and need very little water to reproduce. Be sure not to leave pet water bowls out overnight, dump out kiddie pools after use, and cover rain barrels. They also thrive in dense vegetation, so keep your lawn mowed, and prune your hedges.
Add natural repellents to your garden-There are many plants that have natural insect repellent properties, including citronella, mint, garlic, chrysanthemums, and marigolds. These plants repel mosquitoes and other insects, and attract dragonflies, which are natural mosquito predators, but don't bother humans.
Use low-tech solutions-If you've ever considered screening in your porch, that is one of the most effective solution, and it can also increase the resale value of your home. Outdoor fans are also an inexpensive solution, because mosquitoes aren't active in winds that are over 10 MPH.
Invest in a treatment plan-We offer monthly mosquito treatment plans from April to October each year, averaging $75 per month for an average-sized yard. We also offer one-time services if you have a special event or just need a one-time treatment. Our treatments are highly effective, and safe for children and pets.
If you have any questions, or would like to place a service call, contact us online, or at 501-663-9464.