Door sweep brush seals keep the pests away without chemicals!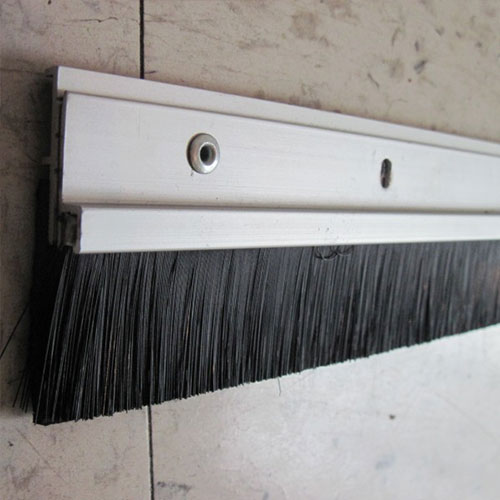 If you operate a business with a large workshop or storage facility, you always have to protect yourself against unwanted guests. Insects and rodents are always looking for dark warm areas where they can nest, and an industrial warehouse offers plenty of great places to hide. That's why it's important to keep seldom-used areas clean and secure. But a motivated pest can squeeze through the smallest opening, and it's up to you to put up a good defense!
If you're concerned about rodents and other pests gaining access to your warehouse or storage facility, we're here to help! The Bug Man has been Arkansas' most trusted name in pest control services since 1976, and we also offer great rates for annual termite inspections and humane animal removal services. We also carry pest control door sweep brushes to fit dock levelers, rolling/overhead doors, and even aircraft hangar doors.
Door sweep brushes can seal gaps up to four inches around and underneath doors. They're ideal for uneven surfaces and more effective than a rubber gasket or weatherstripping for eliminating light, odors, and sounds. Even if unwanted pests decide to come investigating, they won't find easy access around your doors. In addition to helping you keep insects and rodents out, door sweep brushes are also a good way to help you manage your energy costs if you have a climate-controlled warehouse or workshop. You can open and close your external doors as much as you need to, and you won't have to worry about drafts driving up your energy bills when they're closed.
Door sweep brushes are a humane and chemical-free alternative to traps and poisons, and they're a one-time expense that will significantly improve your overall pest control plan. If you run a restaurant or food service operation, you won't have to worry about unwanted chemicals polluting your inventory or contaminating your air. And no matter your business, you'll always benefit from a smaller carbon footprint and lower energy bills!
For more information about door sweeps or quality pest management services, contact us online, or give us a call at (501) 663-9464.