Do You See Cockroaches Scatter When You Turn on Your Kitchen Lights? We Can Help!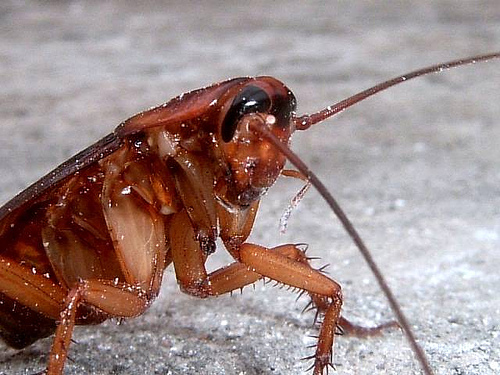 There are over 4,500 species of cockroaches, and they're always an unwelcome sight in our homes. Most Arkansans are particularly familiar with American cockroaches (also known as "waterbugs" or "palmetto bugs"), which can reach 1-3" in length, and German cockroaches, which are the most common breed of cockroaches in the USA. A single female cockroach can produce over 30,000 offspring in one year, and your best defense against an infestation is always a good offense!
The Bug Man has been Arkansas' home pest control leader since 1976, and we're always a phone call or a mouse click away when you want to send the pests packing. Be sure to contact us to schedule your annual termite inspection, and remember that we offer mosquito treatment services each year from April through October that start out at $75 a month for an average-sized yard. Here are a few tips to help you keep the cockroaches and other household pests out of your home this summer:
Clean your kitchen thoroughly after each meal-Roaches and other insects are particularly attracted to sweet and starchy foods, but they're omnivorous and will eat anything. Wipe down your countertops and kitchen sink after every meal, and be sure to deep clean your kitchen (including behind your appliances) at least once a week. Don't leave dirty dishes in the sink, and take out the trash every night, even if your bin isn't completely full.
Use natural repellents-Essential oils are a great way to repel bugs, and they also smell great! Add a few drops of mint, lavender, or rosemary to a spray bottle for quick cleanups. Boric acid can wipe out an infestation quickly, and baking soda is equally effective and safe to use around children and pets. Mix boric acid or baking soda with sugar and leave it in a small dish under the sink overnight.
Use baits and glue traps-Glue traps are inexpensive and easy to hide under your counters. You can also purchase baits with poisons designed to be carried back to the nest. Be sure to read the labeling carefully before use, and replace the traps at least once every three months.
If you have any questions about roach control, or would like to schedule a service appointment, contact us online, or give us a call at 501-663-9464.