Do you have a cockroach problem? We can help!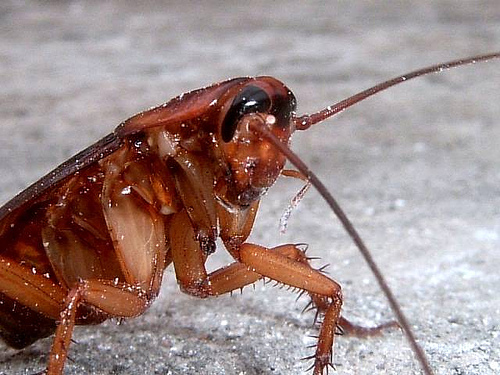 They say that cockroaches can survive a nuclear war, and any homeowner who's had an infestation finds it easy to believe. We all take a lot of pride in our homes, but when we flip on the kitchen light and see a bunch of cockroaches scurry away, it gives us the willies. It also makes us wonder how many more of them are nesting deep within our walls.
The Bug Man has been Arkansas' home pest control leader, and since 1976, our team of specialists have been helping Arkansans get rid of their unwanted guests. Our commitment to legendary customer service is second to none, and we guarantee our service. Contact us at the first sign of any infestation, and we'll be there! The good news is that controlling cockroaches is pretty easy if you go on the offensive. Here are a few easy things that you can do to minimize the chance of an infestation:
Deep clean your home-The kitchen is your highest priority, and you need to do more than wipe down your countertops and mop your floor. You also need to clean behind and underneath appliances. All food should be stored in airtight containers, and dishes should not be left piled up in the sink. Be sure to also vacuum your living room carpet and furniture if you snack in front of the TV.
Perform regular yard maintenance-Cockroaches love dark, moist places to nest. Before they gain access to your home, they set up shop in your yard. Be sure to keep your lawn mowed regularly, and prune bushes and other vegetation that is directly adjacent to the house. Be sure to also eliminate any standing water that gathers after a rainfall, and empty pet food dishes after use.
Eliminate access-Cockroaches are so small that it's hard to seal up all the openings that they can squeeze through, but a tube of caulk is a great weapon in the fight against roaches. Make sure that any place where pipes run through your drywall is sealed in your kitchen and bathrooms.
If you have any questions, or would like to schedule a service appointment, contact us online, or give us a call at 501-663-9464.