Contact The Bug Man to Schedule Your Annual Termite Inspection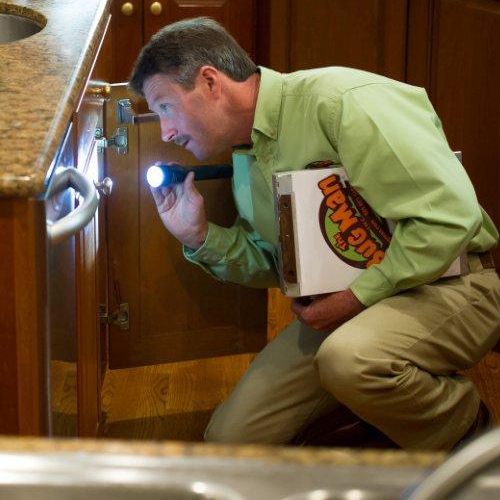 Now that the weather is cooling down, we don't have to spend all of our time swatting flying pests when we go outside. But those pesky bugs don't fly south for the winter like birds; they head for shelter. Sometimes they'll find shelter outdoors, but termites prefer to move in with families. They enjoy the warmth and shelter your home provides, and all that structural wood is like a tasty buffet!
The Bug Man has been Arkansas' most trusted pest control company for over four and a half decades, and we're proud to provide pest control services at great prices. Our team of pest control experts is always a phone call away when you want to schedule your annual termite inspection, and you'll enjoy true peace of mind all year long!
Termite infestations are difficult to spot with the untrained eye. Termites often construct "mud tubes" on the side of your home from droppings and saliva that they use for food and transportation. You won't find sawdust, but you might discover warped structural wood or other damage during the late phases of a heavy infestation. An annual inspection is your best defense against termites, and our experts have the training and experience to stop an infestation before it starts!
Termites are the number one cause of home structural damage, and they cause more damage each year than fires, floods, tornadoes, and other natural disasters combined. In addition to your annual termite inspection, you should mow your lawn regularly, trim vegetation that comes into contact with your home, and eliminate standing water and moisture problems near and in your crawl space. Arkansas gets a lot of rainfall year-round, so be on the lookout for water-damaged wood on your eaves, soffits, and fascia boards, and make repairs immediately. Termites also love unpainted wood, so treat any structural wood that comes in contact with the ground and repaint exterior wood surfaces after making repairs. Your termite contract covers you and your home all year long, so call us at the first sign of trouble, and we'll keep your home termite-free!
If you have any questions about termite treatment or would like to schedule a termite inspection, contact us online, or give us a call at 501-663-9464.