Cockroaches? Not on our watch!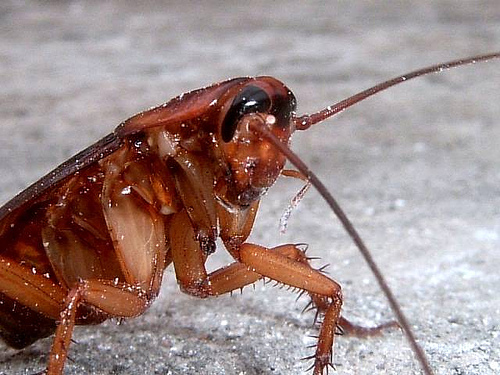 There are few things more irritating to a homeowner than turning on the kitchen light and watching cockroaches scurry away. They're certainly one of nature's most tenacious household pests, and it's not at all difficult to imagine that the stories about them being able to survive a nuclear holocast are true.
Even though cockroaches are natural survivors, they're still never a match for our team of pest control experts at The Bug Man! We've been helping homes and businesses stay pest free for decades, and are always a phone call or mouse click away when you need us. We offer the full range of insect and human animal removal services, as well as mosquito treatment plans for the spring and summer, and annual termite inspections. Contact us at the first sign of any infestation, and we'll be there right away to send them packing. Here are also a few easy things that you can do on your own:
Deep clean your kitchen-When it comes to kitchens, there's no such thing as too clean! Wash the dishes, rinse the sinks, and wipe down the countertops with a cleaning agent (vinegar works as a safe natural alternative to chemical cleaners) after every meal. Be sure to also occasionally go through your pantry and cabinets for spilled food, liquids, and/or spices, and clean behind and underneath appliances.
Eliminate food sources-Take out the trash, empty pet food dishes and litter boxes, and mop as much as you can. Trash bags aren't free, but are cheap enough to replace on a daily basis. Be sure to also store your outdoor trash bins as far away from your house as possible.
Locate and deal with moisture and standing water-Insects like dark, moist places to live and breed. Some insects like mosquitoes lay their nests in puddles and stagnant water. Termite damage is the costliest type of damage, but other insects are a nuisance. Don't roll out the red carpet for them!
If you have any questions about roach control, or would like to schedule a service appointment, contact us online, or give us a call at 501-663-9464.