An annual termite inspection is an important way to enjoy true peace of mind!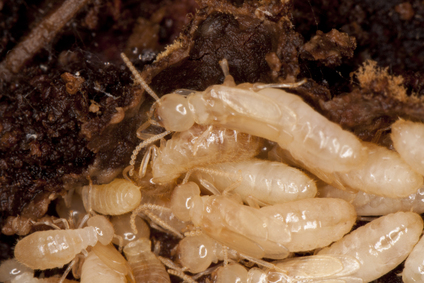 Did you know that repairing termite damage costs homeowners more each year than fire, floods, and other natural disasters combined? Unlike other nuisance insects, termites are hard to spot, and many homeowners don't learn that they have a problem until it's too late.
The Bug Man has been in operation since 1976, and we hate termites almost as much as we love our customers! We strongly recommend scheduling an annual termite inspection to keep your home safe from an infestation. The key to termite control and termite treatment is early detection. Our courteous and professional pest control experts are always a phone call or mouse click away, and you'll be able to relax year-round knowing that you're protected! There's no substitute for a professional termite inspection, but there are a few things that you can do on your own between your annual inspections:
Inspect your attic or crawlspace-Termite damage can be very difficult to spot with an untrained eye, but moisture buildup in your attic or crawlspace can be a cause for concern. Termites prefer moist wood, and failing to resolve those issues could be the equivalent of opening a buffet for them. You probably won't see any visible damage, but termite-infested wood sounds hollow when tapped.
Inspect the outside of your home-The easiest thing to spot outside are "mud tubes," which are a combination of termite saliva and frass (droppings). They use them for feeding and transport. Be sure that all exposed wood is painted, particularly if it's in direct contact with the ground.
Trim foliage that is in direct contact with your home-If you have a big tree in your backyard, be sure to cut off any large limbs that hang over your roof. Be sure also to prune your bushes and other outdoor foliage to avoid providing habitat to termites and other pests.
If you have any questions, or would like to schedule service, contact us online, or at 501-663-9464.