These Three Things in Your Crawl Space Are a Welcome Mat for Bugs!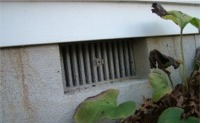 Your home's crawl space was created with good intentions. It ensures easy access to your plumbing and heating systems for maintenance and repair. Unfortunately, this space which is convenient for your handyman or contractor is usually a convenient home for bugs.
Here are the three most common things we, here at The Bug Man, Inc., see when inspecting and treating clients' homes:
Wood Piles – Place your wood pile a good distance away from your house. While the crawl space or adjacent areas may seem to be an ideal place to store wood for your wood-burning stove or fireplace, it also creates a great food source and nesting area for pests, such as termites and other bugs.
Open Vents – We recommend that you secure the doors to your crawl space as well as seal crawl space vents. We often see doors left open, unsecured or improperly secured, allowing clever creatures seeking shelter to enter.
Moisture – Standing puddles or excess moisture from leaking pipes,dryer vents, or rainwater are ideal for bugs such as ants, termites and spiders. And these smaller pests attract bigger pests. We recommend vent covers for crawl space. This will allow proper ventilation for your furnace and allow water evaporation to reduce moisture.
Remember, all animals seek shelter, and a home's crawl space is ideal attractive to all sorts of critters— it's dark, hidden and generally warm, making it an ideal space. You may find that sealing the entire crawl space is a good option to eliminate moisture and create a cleaner, more ideal area for your furnace and contractors who perform your yearly inspections.
Call today at (501) 663-9464 or contact us online at this link to schedule an inspection of your home and crawl space today. We'll do the inspection and provide an estimate at no cost or obligation to you and you'll sleep better knowing The Bug Man has your back!