TAP Insulation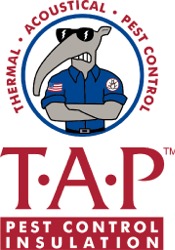 You may be wondering, "What is TAP Insulation?" Thermal, Acoustical & Pest Control Insulation (or "T•A•P") is a patented natural fiber insulation treated with boric acid to produce fire-retardant, environmentally-friendly, thermally superior, sound-deadening, pest-controlling insulation.
TAP Insulation is the result of a revolutionary merger of two well-respected technologies—natural cellulose insulation and natural borate pesticides. TAP is the only stabilized pest control insulation. As part of a total pest management package, TAP can be used to cap existing insulation in attics, or can be installed in attics, walls, and crawlspaces of new construction. TAP Insulation pays for itself quickly in reduced energy costs (up to 38%) and then continues to save you money for the life of the structure.
TAP is acceptable for use around humans and pets, but deadly to cockroaches, silverfish, ants, termites, and many other crawling insects. TAP is the only stabilized insulation which can make pest-control claims. TAP is registered with the U. S. EPA as a labeled pesticide.
The Benefits of TAP Insulation
Controls Pests
Saves Energy & Money
Absorbs Sound
Contains All-Natural Ingredients
Is Environmentally Friendly
Delivers Fire Resistance
Is Permanent
Provides a Perfect Fit
TAP Insulation Kills Bugs
Insects cannot build up a tolerance to TAP, as they can with organic biological treatments, and you never need to re-treat the insulation. TAP controls ants, cockroaches, silverfish, termites, and other pests listed on the EPA label.
EPA-Registered Pesticide Containing Boric Acid
Boric Acid, the active ingredient in TAP, is found in common household products such as saline eyewash solution, detergents, and the food we eat. Although deadly to many insects, T•A•P is acceptable for use around pets and people.
Save Money and Decrease Energy Bills
You can apply TAP right on top of your existing attic insulation. So you realize an immediate increase in comfort and lower heating & cooling cost. Plus TAP is an Energy Star labeled insulation that provides a barrier to pests that try to enter your home through the attic. Call today to learn more about this unique opportunity and schedule an inspection. You may be eligible for a free energy audit if you are an Entergy customer. Call our office at 501-663-9464 for more details. TAP helps keep homeowners cool in the summer and warm in the winter. Comfort. Conservation. Comfortable Conservation!
Fire Safety
TAP Insulation, with its fire-retardant characteristics, limits the spread of fire with both flame and smolder combustion resistance.
The Quiet Life
TAP reduces annoying outside noise and helps create a peaceful haven of quality and solitude.
TAP is Green!
Well, not literally, but TAP is permanent, made from all-natural ingredients and recycled newsprint, thus while you're controlling pests and saving energy, you're conserving landfill space.
A Perfect Fit
TAP forms a perfect fit in your attic, leaving no gaps, covering nooks and crannies, capping the entire attic floor. TAP helps block heat transfer from convection and radiation, as well as conduction. Our skilled technicians are ready to help you start saving on energy costs and better protect your home.